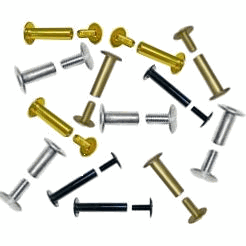 Aluminum Post & Screws often referred to as Chicago Screws, are a great choice for binding menu pages, photo albums, swatch books, drawings and other applications where loose sheets need to kept together.
Binding with Post & Screw allows for easy editing without damaging the bound materials and expanding
the capacity is simple by attaching the available Aluminum Extensions.
Aluminum Post & Screws heads are 7/16" in diameter and the posts are 3/16" in diameter. Available in sizes from 1/4" up to 5".